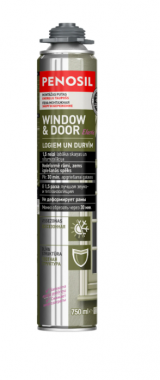 *Product can differ from image
PENOSIL Window & Door Elastic installation foam
PRODUCT DESCRIPTION
PENOSIL Window & Door Elastic is easily compressable elastic insulation foam for window and door installation and sealing. Suitable for pressure sensitive and movable joints.
VALUES
Elastic, easily compressible, restores its original shape after being compressed.
Due to especially low expansion pressure very suitable for using in fragile constructions.
Fast curing.
Allows accurate dosage and economic usage.
Withstands vibration well.
Adheres well to various construction materials.
Can be used with a foam gun.
APPLICATION AREAS
Installation and sealing of windows and doors.
Filling of joints and openings of considerable movability.
Thermal and sound insulation.
Filling of pressure sensitive and narrow joints.
Insulation of ventilation devices and pipes.
ADHERES TO:
Wood
Concrete
All metals
PVC
Bricks
Gypsum boards
EPS
Roof tiles
PACKAGE
Aerosol can 1000 ml,
content 750 ml.
12 cans in a box.
USAGE INSTRUCTIONS
Hold the foam can in upright position and turn the gun side by holding the gun handle with one hand and turn the can with the other hand.
Make sure that the gun is not pointed at other persons when turning it.
The can must not be screwed to the gun with the valve upside down or by turning the gun on the can.
After fixing the gun, shake the can well at least 20 times and turn into application position.
The foam output can be adjusted by gun trigger.
TIPS
A previously moistened surface ensures faster curing of the foam and a better result.
At low temperatures the foam can must be warmed before work. The temperature of the warming room or water must not exceed +30°C.
Air temperature during application +5°C to +30°C, best results at +20°C.
Can temperature during application +5°C to +25°C, best results at +20°C.
The surfaces must be clean from dust, loose particles and oil.
LIMITATIONS
Cured foam is sensitive to UV radiation and needs to be covered.
Do not use on surfaces that are in constant contact with water.
Insulation foam does not adhere to polyethylene (PE), PTFE (Teflon®) or silicone surfaces.
SPECIFICATION