Double-glazed windows

The glass package is a modern tool that rationally increases the thermal and sound insulation of the room. A glass package is a product consisting of two or three glasses, hermetically connected to each other, filled with dried gas. The thickness of the air gaps varies within 6–20 mm and is fixed by spacer frames made of aluminum profile (spacer), which are filled with a drying material (molecular sieve). The modern sealing methods used make it possible to achieve excellent properties of a glass package window: tightness, thermal and sound insulation, as well as durability in operation. Thanks to modern technologies, we will make your room dry, warm, bright and comfortable.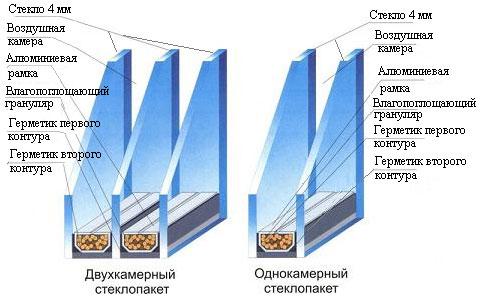 Single-camera glass package
Single-camera glass package - a system that consists of 2 glasses, the thickness of each of which is 4 millimeters. The thickness of the remote frame, according to the standard, is 12-16 millimeters. Single-camera glass package, as a rule, are installed in order to save on balcony blocks and windows if the balcony or loggia is glassed. Glass package with one chamber are also widely used in rooms where there is no need for high thermal conductivity and sound insulation. So, the main characteristic feature is the use of two glasses in the design, which are separated by air space. The use of this double-glazed window allows to reduce heat loss by 40%, and reduce the noise level in the room by 60-70%. The cost of a single-camera glass package is relatively small, since a smaller amount of material is used for its manufacture. Standard and energy-saving single-camera glass package are available. The standard differs from the usual wooden windows in tightness, which allows you to keep warm, as well as prevent condensation, which in turn avoids the appearance of freezing points. It should be noted that single-camera glass package are significantly inferior to double-camera glass package in terms of their noise and heat insulation characteristics. According to studies, condensate on single-camera units is formed at an outside temperature of -5 degrees Celsius.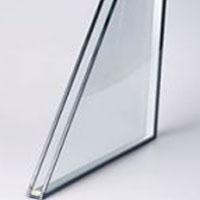 The use of single-camera glass package is undesirable in those climatic zones where the temperature drops below the minus mark of 8-10 degrees. Its advantages include the light weight of the window and the entire structure, which leads to significant savings in the selection and installation of fittings. For glass package with one chamber, you can choose less durable, and therefore cheaper fittings. The service life of the fittings will be slightly longer due to the minimum load to which all elements will be subjected.
Glass packages with one chamber have high light transmission. Their installation allows you to save small financial resources, due to lower lighting costs.
Energy-saving single-camera glass packages have a number of competitive advantages, the main of which is the reduction in the flow of light and heat during warm periods of time. In winter, this type of glazing allows for maximum conductivity of light fluxes and heat retention. Silver ions are deposited on the glass surface with a special sprayer. Such a coating does not reduce the light transmission of glass.
The principle of operation of energy-saving single-camera glass packages reduced to the physical laws of reflection. The heat that is directed towards the window is reflected from the ionic coating and returned back to the room. On the other side, the outside, the same process takes place, which allows you to keep warm in cold periods, and in summer, on the contrary, keep cool. The thermal insulation properties of energy-saving glass packages are 21 times higher than those of windows that do not have an energy-saving coating.
To increase energy efficiency, the space between windows is usually filled with inert gas (argon, Krypton), which has very low thermal conductivity. The camera of glass package is filled with inert gas 60-90%.
For the manufacture of external glass, standard glass is used, the brand of which is M1, M0. When ordering, you can also choose the color of the glass, which can be either the usual transparent or any color scheme. For the manufacture of internal glass, the same type is used. Butyl is used as an internal sealant, and silicone or semi-sulfide sealants are used as external ones. In the manufacture and installation of single-camaera glass package, it is also possible to use special films: architectural (protective), decorative (colored).
The choice of glass is an important and responsible process that requires the customer to clearly calculate and highlight priority goals and objectives. In the event that, for example, an autonomous heating system is installed in a country house, energy-saving glass should be installed, which will reduce fuel consumption by reducing heat loss. The use of float glass would be suitable for those wishing to obtain an extremely flat window without a single optical defect.
The installation process must be carried out as clearly as possible. Any inaccuracy can lead to depressurization of the glass package, resulting in the need to replace it. Before installation, it is necessary to clearly highlight the functional necessity and capabilities of a single-camera dglass package, and only after comparing and matching these points, proceed with the installation of the structure.
Two-camera glass packages
The most important component of a window is a glass package. It largely determine the soundproofing and heat-insulating properties of windows. A glass package is a block of glass with sealed air cameras between them. Glasses can be from 2 to 4. They are interconnected using special frames.
The properties of a glass package depend on the features of its design and on the type of glass. Most often, single-camera and double-camera glass packafes are used. But for residential uses, it is still recommended to give preference to the second option - glass package.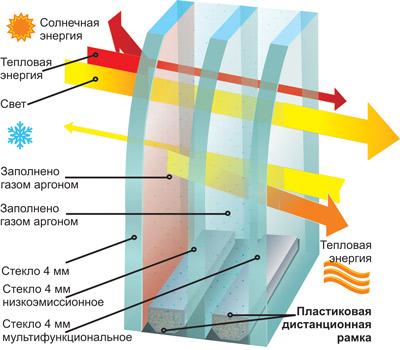 Double glass is a great alternative to conventional single glass. Inside such a glass package there are three sheets of glass. Glass packages come in a variety of options.
It is installed primarily in order to increase the soundproofing and thermal properties of windows. This effect is achieved due to the special structure of the glass package. The peculiarity of the structure is that the thickness of the layers is different. This improves the soundproofing properties of the glass package. The thickness of the glasses in the glass package with two cameras is from 4 to 6 mm, and the interlayer size between them can vary from 6 to 16 mm.
Advantages of double-camera glass packages:
Such glass package reduce heat loss by about 40-50% compared to single-camera ones;

The soundproofing characteristics of windows are enhanced. Approximately 2.2 times the noise level in the room is reduced;

Formation of condensate at outdoor temperature -18°С. In single-camera, condensate is already formed at -5 ° C;

The thickness of a glass package can reach 44 mm, while the maximum thickness of a single-camera is 24 mm.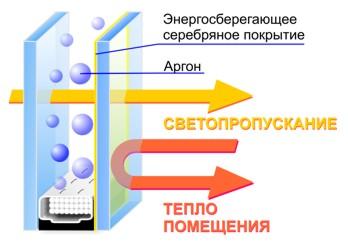 In addition to all of the above, double-camera glass packages, unlike single-camera ones, are recommended for installation in residential premises. Their advantage is especially noticeable in the off-season. During such a period, additional heating devices will not be needed, which will save not only the health of all family members, but also finances. After all, otherwise you will have to pay a lot for electricity.
But despite all the advantages of these glass packages, they also have disadvantages.
This mainly concerns the weight of the structure. A double-camera glass package is one and a half times heavier than a single-camera glass package. Windows with one camera are easier to transport and lift. Due to the fact that double-camera windows are heavier, they exert a high load on the entire structure: frame, sash and fittings. Therefore, such windows will last less. And, of course, such windows will cost more.
Occasionally, in order to further improve thermal insulation properties, a special low-emission spray is applied to the internal glass. It will be an energy-saving glass package with two cameras. And in order to increase sound insulation - glass of different thicknesses and distances between them are installed.
As far as application is concerned, two-camera glass packages are installed almost everywhere. They are used for glazing office premises, administrative buildings, as well as cottages, apartments, country houses. Most often, such double-camera windows are installed in apartments, since the air here is more humid, and fogging of windows is a frequent occurrence. Condensation is especially common in the kitchen. Therefore, it is better to install a double-camera window here. In addition, it is preferable to install such double-camera windows when glazing loggias, when the internal space of a loggia or balcony is used as an isolated room.
You should choose a glass package with two cameras if the windows of the apartment overlook a noisy highway or there is a restaurant, disco or cafe nearby. Also, such double-camera windows will be appropriate in apartments in which it is especially cold in winter. Usually windows with 3 glasses are also installed in private houses. They help to save on heating at home, because they have a minimum thermal conductivity.
So, double-camera windows fully meet our climate zone. They have a wide range of applications. The installation of such double-camera windows is recommended in all residential buildings.