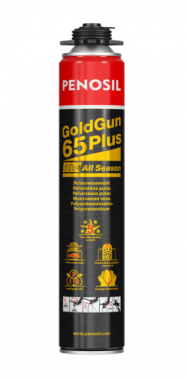 *Product can differ from image
PENOSIL GoldGun 65 Plus All Season 5-star PU-foam
PRODUCT DESCRIPTION
PENOSIL GoldGun 65 Plus All Season is a gun foam for thermal and sound insulation with the highest stable quality and increased output, for the most demanding users and rough conditions.
------------------------------
VALUES
Excellent sound and thermal insulation.
Increased density and strength.
Very homogeneous light structure.
Works well in all weather conditions from –20 °C to +30 °C.
Accelerated curing.
43% higher yield than usual.
Controlled secondary expansion.
Suitable for gentle structures.
No need for additional moisturising.
Good resistance to moisture and mould.
No harmful gases.
------------------------------
APPLICATION AREAS
Extra demanding installation of windows and doors.
Voluminous installation and filling works with high foam consumption.
Thermal insulation and soundproofing.
Fixation of wall panels and insulation boards.
Insulation and fixation of pipes in openings.
ADHERES TO
Wood
Concrete
Masonry
Bricks
Most metals
Gypsum boards
EPS
Roof tiles
PACKAGE
1000 ml aerosol can, content 850 ml,
12 cans in a box
------------------------------
USAGE INSTRUCTIONS
Hold the foam can in upright position and turn the gun side by holding the gun handle with one hand and turn the can with the other hand.
Make sure that the gun is not pointed to at other persons when turning it. The can must not be screwed to the gun with the valve upside down or by turning the gun on the can.
After fixing the gun, shake the can well at least 20 times. The foam output can be adjusted by gun trigger.
------------------------------
TIPS
A previously moistened surface ensures faster curing of the foam and a better result.
At low temperatures the foam can must be warmed before work. The temperature of the warming room or water must not exceed +30°C.
Air temperature during application -20°C to +30°C, best results at +20°C.
Can temperature during application +5°C to +25°C, best results at +20°C.
The surfaces must be clean from dust, loose particles and oil.
LIMITATIONS
Cured foam is sensitive to UV radiation and needs to be covered.
Do not use on surfaces that are in constant contact with water.
Insulation foam does not adhere to polyethylene (PE), PTFE (Teflon®) or silicone surfaces.
SPECIFICATION